Skip to Content
All About Ice Cream at Daddy's Dairy
Daddy's Dairy makes hard ice cream in 80 different exciting flavors, as well as soft serve and frozen yogurt in over 200 flavor combinations. We also offer sugar-free and lactose-free options in almost any flavor. Stop by one of our five locations to try our unique flavors, or grab a cone or two of your favorites. Get it in a cup or crunchy waffle cone. Our ice cream is creamy and delicious for a fresh, soothing snack. Whether you like a cold cup of ice cream on a hot summer day or all year round, we're here to serve you delightful frozen desserts.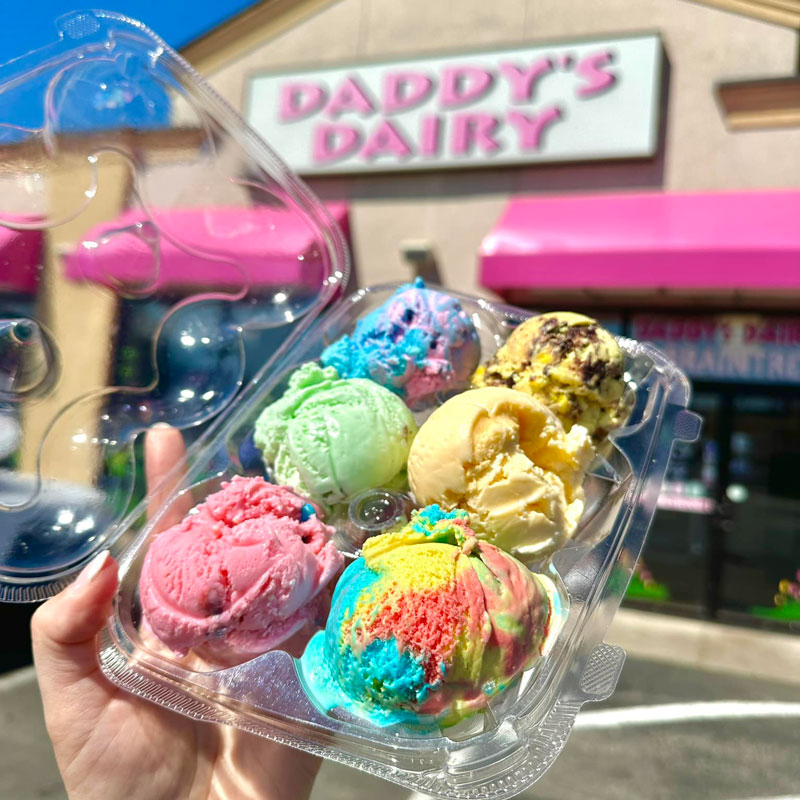 Passionate About Fabulous Flavors
Our passion for making ice cream has led to selling unforgettable flavors. The first location, in Randolph, was established by the Minihan family in 1962 and has sold ice cream ever since. Over time, the Minihan family continued to bring in new flavor varieties and expanded to multiple locations in the South Shore, MA. Our consistent product value, customer service, and extensive selection of ice cream and soft-serve flavors have brought many loyal customers to our door.
Fresh Ideas and Quality Ingredients
Our team of dessert-makers loves serving frozen treats in all kinds of new and exciting flavors. We make outstanding ice cream with a luscious creamy texture, made with fresh seasonal ingredients. Treat yourself to a stunning variety of satisfying frozen desserts with unique flavors and toppings and custom specialty items such as ice cream cakes and pies. Our ice creams and cold pastries are perfect for a hot day. Head to our shop to taste our newest flavor concoctions. We have excellent ice cream in both traditional and lactose-free, soft-serve, and frozen yogurt options.
Visit Any of Our Locations